Alexander Hamilton U.S. Custom House
Home of the Smithsonian's National Museum of the American Indian–New York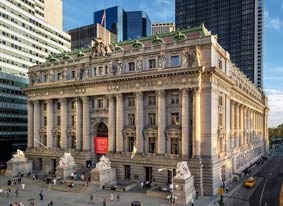 One Bowling Green
New York, NY 10004 USA
Phone: +1-212-514-3700
About the historic venue

Home of the NMAI's George Gustav Heye Center, the Alexander Hamilton U.S. Custom House is one of the most splendid Beaux Arts buildings in New York. Rich in architectural and historic significance, the custom house is a National Historic Landmark, listed on the U.S. National Register of Historic Places.

Before the imposition of the income tax in 1916, customs duties were the greatest single source of revenue for the U.S. government, and the Port of New York was the country's most prosperous trade center. In 1899, the government invited twenty architects to submit designs for a new custom house. The design chosen was by Cass Gilbert (1859–1934), a well-known young architect from St. Paul, Minnesota. Gilbert, who had once worked in the offices of McKim, Mead & White, felt that a public building should reveal the "imponderable elements of life and character."
Accessing the building (entrance, security)

Borderless Cyber Conference attendees will have a separate entrance to the building. The security measures taken comply with all Smithsonian policies. You'll be greeted upon entry by security personnel who will conduct a thorough but speedy hand-check of all bags, briefcases, purses, and containers.

Visitors may be required to walk through a metal detector. Those who are unable to go through the metal detector will be hand-screened with an electronic wand by security personnel. Bag checks will be conducted via an x-ray machine or checked by hand. All luggage will be scanned or hand checked. This is a time consuming process, so you are encouraged to leave any and all luggage at your hotel, if possible.

Please also note: We are not planning to provide secure storage for luggage at the venue.

The conference registration desk will open at 8:00 AM on Wednesday, 21 June. All participants should plan to arrive between 8:00-8:30 to be sure they have enough time to go through the security areas prior to accessing the conference room.


Getting to the building

The building is located on the south side of Bowling Green, in lower Manhattan, adjacent to the northeast corner of Battery Park.

Subway
4 & 5 trains to Bowling Green

1 train to Rector Street or South Ferry

R (& W on weekdays) trains to Whitehall Street

J & Z trains to Broad Street

2 & 3 trains to Wall Street
Bus
See the NY MTA for maps and service updates for subways and buses.

Parking

There is no parking at the museum. There are several parking garages located nearby. Click here for current parking options.